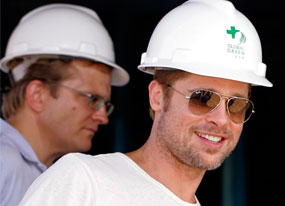 Boy, not only is he a hunk, he has BRAINS.
Brad Pitt is leading up a new project, called Make It Right, and is planning a new 150-Home Community in New Orleans' Lower Ninth Ward.
Make It Right is committed to:
~ Building 150 houses in the Lower Ninth Ward
~ Ensuring a green, affordable, sustainable, and replicable community to serve as a model for further rebuilding
~ Including the Lower Ninth Ward community as an integral part of the process
~ Forming a core team of local, national and international architects
~ Utilizing sustainable construction practices; William McDonough + Partners, an internationally recognized practitioner of Cradle to Cradle(1) design, will lead this effort.
~ A finance plan that ensures that residents who wish to return to the Lower Ninth Ward can do so without further financial hardship
This is pretty exciting news. McDonough Braungart Design Chemistry (MBDC) is a product and process design consultancy firm applying the Cradle to CradleSM framework to redesign the way we make things. Instead of designing cradle-to-grave products, dumped in landfills at the end of their 'life,' MBDC transforms industry by creating products for cradle-to-cradle cycles, whose materials are perpetually circulated in closed loops. Maintaining materials in closed loops maximizes material value without damaging ecosystems.
Click here to read the press release from Brad Pitt and Make It Right.
I bet there will be some major awards coming out of this project!