I wholeheartedly agree with this statement in The Seattle Times editorial in today's paper. Read The cost of a diaper and other trash. The statement makes several good points.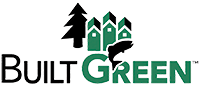 One of the major goals of the Built Green program is proper energy- and earth-friendly disposal of construction materials. Built Green builders and remodelers recycle as much as possible of scrap building materials and post a jobsite recycling plan to decrease the amount of materials going to already overburdened landfills. Building materials such as lumber, wall board, concrete, cardboard, ceiling tiles, paints and packaging can often be recycled. If a remodeler or builder is deconstructing an existing building on the site, many of those materials can also be salvaged or recycled including wood flooring, framing materials, brick, ceramic tile and stone, trim and cabinetry, among others.
Builders can also facilitate homeowner recycling by installing recycling bins in kitchens or garages. Also, food recycling chutes are an alternative to traditional food garbage disposals that many builders include to provide homeowners with an easy way to compost food waste. I have yet to see this in practice, but this year's Seattle Street of Dreams, in Snohomish County near Echo Lake (where I grew up), is Built Green and I expect to see some of these features in these up to $1.975 M homes.
The 2007 Seattle Street of Dreams is located in the brand new community of "Quinn's Crossing" in unincorporated Snohomish county near Echo Lake – a stone's throw from where I grew up – just off State Highway 522 midway between Woodinville and Monroe (near Echo Falls Country Club). Five eco-friendly show homes, ranging in size from approximately 4,200 – 4,750 square feet will be featured. The show homes will be priced up to $1.975M with each home uniquely designed and displaying the latest trends in architecture, interior design, home technology and landscaping.
The show starts July 14th. You can find more show information, including ticket prices and shuttle information, here. Of course, if you are interested in purchasing one of these homes and would like a private showing (we can avoid the crowds between the hours of 8 AM and 9:30 AM daily from July 14 – August 19), please email me to let me know and we can schedule an appointment to view these five beautiful Built Green homes.
Wendy Hughes-Jelen
A Built Green Member and Real Estate Specialist
Monroe High School Class of '88 GO BEARCATS!